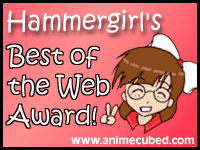 Hammergirl surfs the web all the time, looking for the best of the best! Here's a listing of the sites that were cool enough to win the Hammergirl's Best of the Web award!
(To enter, submit your site to Hammergirl@animecubed.com with the subject "Site Entry", and she'll take a peek!)


Anime Cubed > Hammergirl >

Hammergirl Archive - SHOUJO VS. SHONEN

Advice for anime fans from Anime Pictures & Anime Wallpaper @ Anime Cubed's very own resident Hammergirl!

-- Hammergirl can be reached at Hammergirl@animecubed.com! --

SHOUJO VS. SHONEN
Dear Hammergirl:
I really like this girl, but she is a shoujo fan! I can't stand that prissy, flowery anime - I am a die-hard Dragonballer myself - and we have nothing to contest about! What can I do to win her heart?
-Flummoxed in Florida

Dear Flummoxed:
*HAMMER!*
Did that knock the Dragonball out of you? Well, let's hope so, because if that is the only anime you like, you are going to be hard pressed to find something fun to watch with a nice girl like yours. Why not try 'Escaflowne' or 'Bebop'? Both have good rumblin' scenes, and lots of emotion for those who can handle it.

Remember, kiddies: Anyone can like a ninja fight. It takes a real man to enjoy romance!
-Hammergirl
Return to Hammergirl!