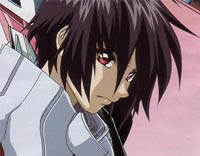 Not only do we have huge Mobile Suit Gundam Seed Destiny and Gundam Seed wallpaper and picture galleries, we've collected all the best links to the other Seed sites out there! Scroll down for only the best Gundam Seed links and downloads! But first, some explanation..

Gundam Seed - The Earth Alliance and the Zaft - the 'Naturals' and the 'Coordinators' - have reached a stalemate due to economic disputes. Finally, both sides go to war! A year after the war begins, Heliopolis, a neutral stellite, is attacked by a mobile suit unit left be the Zaft. They plan on taking the Atlantic Alliance's newest generation of Gundam Mobile Suits, which have been produced in this satellite in secret. The raid succeeds, and Zaft gets four of the Gundams. Kira Yamato, a college student, is reunited with his longtime friend Aslan Zara - however, now they are on different sides of the war! Aslan launches to defeat Kira, and a new battle between Gundams begins!

Gundam Seed Destiny - The Cosmic Era 70 tragedy, 'Bloody Valentine', escalates into war. However, the Earth Alliance and Zaft reach a truce - but this doesn't end the Naturals and Coordinators' conflicts. Shin Asuka lost his parents and little sister during the war. Seeing a Gundam fly overhead as he grips a cell phone - his only memento of his loss, he decides to become a Zaft soldier.

Okay, now scroll down to get to all the great links!